Brew a full-bodied cup at home or on the go.
What you will need:
— AeroPress
— Timer
— Brewing scales
— Comandante hand grinder
— Paper or metal filter
— Freshly ground coffee
— Filtered water
— Spoon
— Mug
Download our PDF Guide - Advanced Method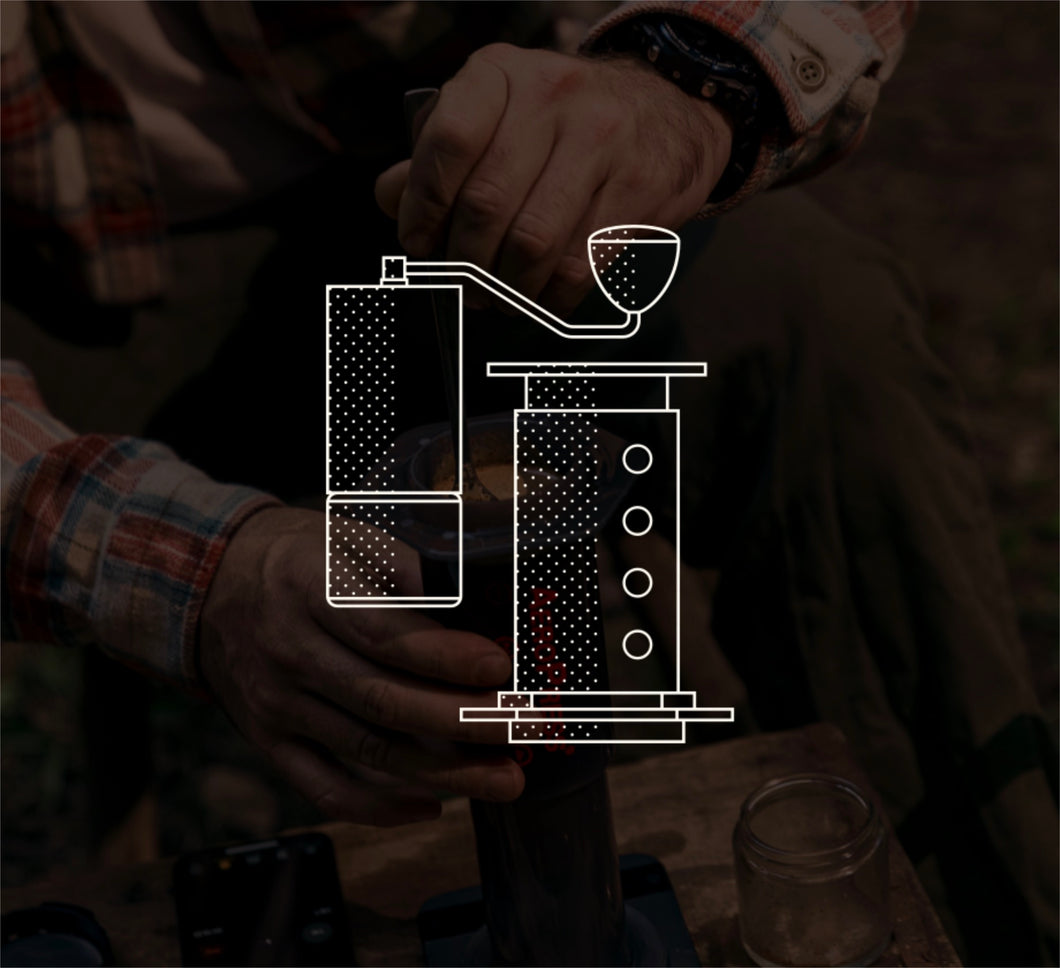 How to brew AeroPress - Advanced method
AeroPress makes it easy and affordable to brew a delicious cup of coffee. It's our favourite brewing method outside of a cafe or when travelling. Grind your beans fresh and use a set of scales for consistently great results.
1. Set your Comandante hand grinder to 25 clicks.
2. Pour 30g of whole beans into the chamber and grind your coffee.
3. Pull apart your AeroPress and place inverted on the bench.
4. Preheat and rinse the AeroPress and your cup with boiled water.
5. Place the AeroPress on top of your scales, pour the freshly ground coffee in and tare off your scales.
6. Insert the metal filter into the cap with the writing side facing you.
7. While starting your timer, pour in 140g of boiling water as quickly as you can.
8. Gently stir the grinds for the first 30 seconds in a back and forth motion to saturate them all.
9. Place the lid on top and screw on.
10. Flip over the AeroPress and start applying even pressure slowly up until the 1min mark. Don't compress the grinds.
11. You now have a cup of concentrated brewed coffee. Place the cup onto scales, tare and add another 140g of water to dilute for the perfect drinking ratio.
12. And that's it. A perfectly brewed AeroPress.
Tip: We recommend investing in a fine metal disk filter. It's a much more sustainable and convenient option than brewing with single use paper filters.
1. Pour 30g of beans into chamber
2. Screw in bottom chamber of the grinder
3. Grind your coffee
4. Place inverted AeroPress on the scales
5. Insert metal filter
6. Screw on the filter cap
7. Pour the ground coffee in the chamber
8. Pour 140g of boiling water in
9. Stir back and forth
10. Place lid on top and screw on
11. Flip AeroPress and gently plunge
12. Your concentrated brew
13. Dilute the concentrate with 140g of water
14. Enjoy